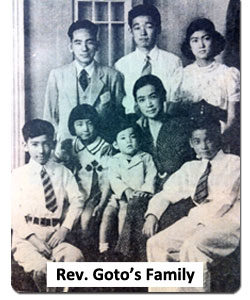 In 1927, Dr. William Fry, the Superintendent of Hawaii Mission, selected Rev. C. P. Goto, who had been a language teacher on Maui, to be the pioneer Christian worker among the Japanese people on the whole Windward side from Waimanalo to Kahuku, whose ministry lasted 27 faithful years. On November 19, 1927, the Kaneohe Methodist Church came into being officially with ten adults and nine children.
In 1929, the first building was built on Kam Highway with the gift of $9,000 from three nieces of Rev. Henry H. Parker, a Congregational Minister, son of early missionaries to Windward Oahu. Thus, the name Parker Memorial Methodist Church was given to this new church. Rev. Parker served as a pastor of Kawaiahao for fifty-four years, and was also a counselor of many Hawaiian kings and chiefs, including Kamehameha IV, Lunalilo, Kalakaua, Liliuokalani, and President Dole.
More about Rev. Parker
During the war years (WWII), the parish hall was a center for Red Cross and civilian defense activities, as well as a headquarters for gas and food rationing. Church members also continued serving lunches to servicemen as they gathered together to worship on Sunday mornings such as New Years Day, Easter, Mother's Day, Thanksgiving, and Christmas.
Parker United Methodist Church
In 1955, the parish hall was destroyed by fire, which necessitated the plans for a new church and parish hall in another location.  In March 1957, the modern plant of church, classrooms and social hall (Goto Hall) were erected on the present location on Waikalua Road.  The church became a bilingual congregation as English speaking members joined to have worship and it gradually became a community church, where all people might come for prayer and worship.
In 1968, as a result of the Methodist Church joining with the United Brethern, the name of denomination was changed to United Methodist Church. Therefore, the Administrative Board changed the offical name from "Henry H. Parker Memorial Methodist Church" to "Parker United Methodist Church."
Parker Church has admirable history and a bright future at this juncture where people of all races congregate for worship and serve God as one body of Christ Jesus.